HOW TO CUT A TABLE EDGE SO THE
LEATHER LAYS FLUSH TO WOOD
You only have to do this if the leather insert does not fit flush to the edge.
One cause of this problem is when the leather is
replacing a very thin oil cloth.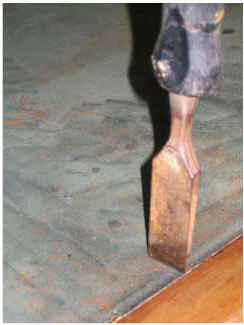 Hold a sharp chisel at a 90% angle to the surface. Drag the chisel along the edge
until the desired depth is reached. This may take a few cuts to get deep enough.
One thing to remember is take your time and cut slowly.
Smooth with 80 grit sandpaper and your done.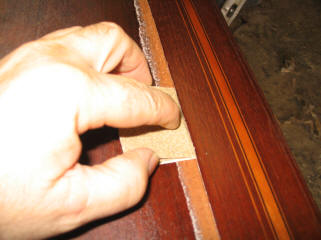 Copyright © 1998-2017
by James Lane, all rights reserved. Text, graphics, and HTML code are protected by US and International Copyright Laws, and may not be copied, reprinted, published, translated, hosted, or otherwise distributed by any means without explicit permission. Trademarks and terms of use.